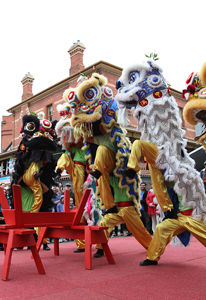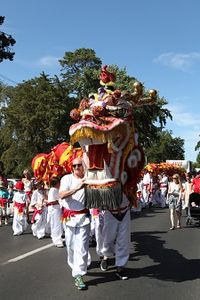 Welcome to the


Chinese Australian Cultural Society Ballarat
澳中文化社团 - 巴拉瑞特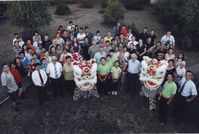 The Society was formed in October 2008 in recognition of the changing needs of the Chinese community in Ballarat. In that time the Society has quickly developed strong relationships with the City of Ballarat, Sovereign Hill and Mt Clear College.
There are over 200 members in the Society with 85% being either Chinese or of Chinese descent with the remainder being Australian. Several are fourth-generation descendants of Chinese migrants to Ballarat in the 1800s while many have only recently come to Ballarat from overseas.
President Michelle Philips is the first non-Chinese president of the association and is also the first female president. Michelle firmly believes that the society is blessed with both its friends and supporters as we all work towards bridging the cultural gap.
At last count, members come from eight different countries and speak at least 12 different languages. The Society conducts weekly Chinese language lessons and strongly supports the Mt Clear Confucius Classroom. Training is also available in Tai Chi, Chinese folk dancing and Chinese Lion dancing.
Sticky Rice "Come & Try" Lunch 端午节聚餐活动等待您的参与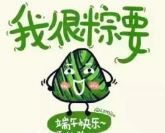 The Society will be holding a Sticky Rice "Come & Try" Lunch at the VRI Hall 235 Lydiard St, Nth Ballarat on Sunday 17th June 12 PM.
巴拉瑞特中澳文化社团将于六月十七号,在235 Lydiard St, Nth Ballarat (The VRI Hall), 星期天中午十二点举办庆祝端午节的聚餐活动
Everyone is asked to bring food to share, s specialty/favourite from your childhood or province.
请前来参加聚餐的朋友们戴上您最拿手的特色美食和大家彼此分享.
Fried rice, noodles & tea will be provided.
社团提供炒面,面条和茶饮.
Cost $5 per person for members, $10 per person non-members to assist with payment of hall hire etc.
为了一起分担租赁活动场所的费用.参加聚餐的费用是会员$5刀每人, 非会员每人$10刀.
A great opportunity to make new friends and try amazing home cooked meals from all over China & Australia.
欢迎各位童鞋们踊跃加入我们的聚餐活动一起打酱油.与此同时, 借着这次聚餐活动, 我们可以在分享彼此的各地特色美食的同时, 结交更多的朋友. 何乐而不为呢!
To assist with catering please contact Charles Zhang 0422 343 357 if you wish to come along.
请有意提前协助聚餐准备工作的朋友联系Charles. 联系电话:0422 343 357
All Welcome.
期待您的参与.
Chinese New Year 2018 二零一八中国农历新年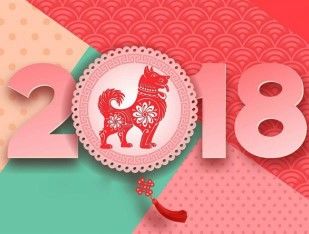 Hopefully, all our members and friends enjoyed a peaceful break with friends and family for Christmas and the Aussie New Year.
希望各位会员和朋友们都和家人一起度过了一个愉快的假期和圣诞节。
February 16th marks the beginning of the Year of the Dog. This year also sees us celebrate our 10th anniversary in October so get ready for some serious celebrating.
2月16号是农历新的一年(狗年)的开始。今年十月我们协会将会举行成立10周年庆典,所以大家都要开始着手准备一个盛大的庆典活动了。
NEW YEAR BANQUET
新年晚宴
Golden Crown Restaurant
皇冠大酒店
101/105 Main Rd, Ballarat East
Monday, February 19th
Commencing 6:30pm
Come along for a great evening of food, entertainment and good company to welcome the Year of the Dog
欢迎来和我们共进晚餐迎接农历狗年。
Book a table or come on your own and make new friends
你可以现在预订桌子和朋友一起来或者直接单独来结交新的朋友。
Adults $45 Children $30 成人45澳币,儿童30澳币
Bookings essential Contact Alisa Ma 0401 394 080 or Michelle Philips 0421 608 783
以上是预订联系方式
SOVEREIGN HILL NEW YEAR CELEBRATION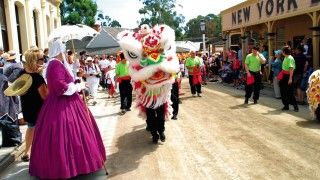 Sunday, February 18th the Society will begin our regular annual events starting with the community celebrations at Sovereign Hill along with Chinese themed activities, a street parade featuring our Lions and Dragon and performances by our Happy Birds dancers.
2月18日星期天,我们将在淑芬山举行一年一度的农历新年庆祝活动,届时将会有许多以中国文化元素为主题的活动,比如舞狮表演和快乐小鸟舞蹈队的表演。
After the celebration at the Joss House, there is an opportunity to get together at the kiosk. Please bring some food along to share on the day that can be eaten with your fingers. The Society will arrange for a whole roast pig as usual, a delicious highlight of Chinese New Year.
在关公庙祭拜以后,我们将会在kiosk餐厅一起共进午餐。大家可以带上一些美味佳肴和朋友们一起分享。协会将会和往常一样订购一只烤乳猪,非常地美味,作为迎接新年的佳肴。
All paid members of the Society will be admitted free of charge to Sovereign Hill on this day provided you show your current membership card to entry staff. Cards have been posted but may take a week to arrive in your letterbox so keep an eye out and don't lose your card when it arrives.
所有协会的正式会员都可以在这一天免费进入淑芬山,只需要向工作人员出示你的会员卡即可进入。大家的会员卡已经寄出,可能需要一周时间到达你的信箱,请大家保存好你的会员卡并在庆祝当天带上。
NO CARD NO FREE ENTRY 非会员付费进入
Friends and family are welcome to attend but will be required to pay ½ price entry fee. This is very good value. Of course, being a member is even better.
非会员朋友们和家人可以在庆典当天半价进入淑芬山。这是一个非常不错的价格,而且如果你成为协会会员会更实惠。
Sovereign Hill Chinese New Year Celebration Program and Events
CHINESE FORTUNES EXHIBITION
This exhibition is a major Australian exhibition exploring stories of early Chinese Australians. Read and observe how, with organisation and sophistication, an incredible spirit of determination along with an ability to integrate into Western society, pioneering Chinese not only survived but actually came to prosper. See how Chinese brought their skills (growing vegetables, business enterprises to mention but a few) to a colony, how their culture enhanced our "young" country and see for yourselves the indignations and racial bias that they had to endure.
THIS EXHIBITION IS A MUST SEE!!
Click below to go to the M.A.D.E. site (Museum of Australian Democracy) that is hosting this exhibition.
YEAR OF THE ROOSTER - Celebrations at Sovereign Hill
The Lion Team prepare at the Joss House
[February 2017]

The Joss House Celebration
[February 2017]

The Joss House Celebration
[February 2017]

The Joss House Celebration
[February 2017]

The Dragon, Xin Loong,
particpates in the parade
[February 2017]

One of the Lions greets bystanders
during the parade
[February 2017]

CACSB dancing group (The Happy Birds)
parade in alternative traditional dress
[February 2017]

Xin Loong proved to be VERY popular
with both children and adults
[February 2017]